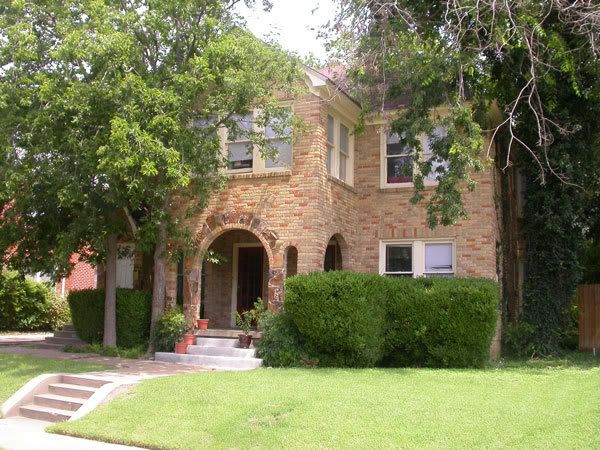 This afternoon, while running errands, I happened to drive past this house. Back in 2007, I lived here. It so happens that this particular house is available to rent again, and seeing the sign in the front yard I immediately started trying to figure out how to work my situation to live there again. You see, I loved this house.
It's tucked into a tree-lined street in the oldest neighborhood in the city, a street that's filled with families, winos, college students, the odd over-rated band, and yuppies like me. It had a fantastic, big kitchen with a 5 burner gas stove and a tankless water heater. The bathroom still has the original basket-weave tile, with original, 78-year-old grout that will never come clean, no matter how many toothbrushes you sacrifice to it. The house is literally sliding off the foundation and the English ivy in back is threatening to annex the whole thing. 
I loved that house.
But the more I thought about it, the more I had to question whether that house is just a house, or rather a tomb. The moments in my life that I am least proud of happened there, and their ghosts will always haunt it. 
I spent hot summer nights there, getting porch drunk and watching the barflies hit cars, floating kegs with the neighbors and peeling peaches over the kitchen sink. I also watched a years long relationship begin to unravel and eventually end there, and it was awful. Insults and glassware hurled indiscriminately and nights spent on the couch. Ruined dinners and long days at work to avoid going home. Spiteful confrontations and, eventually, not speaking at all. 
I'd like to think that I'm a better person now. A more patient person. More compassionate and honest and capable of giving and receiving love without doubt. But, I also know that that house could never be a home for me again, much as I love its beautiful arches and weathered floors, and I think that maybe some ghosts should stay buried.